Vietnam/JSN sister renal center program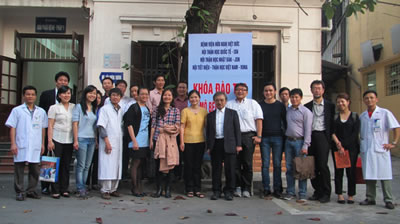 ▲2014 1st Renal Pathology Course in Hanoi
International Society of Nephrology (ISN) Sister Renal Center (SRC) Program helps improve how nephrology is practiced in emerging countries by linking emerging renal centers or units with established centers of excellence in the developed world.
Japanese Society of Nephrology (JSN) as supporting center have started SRC program "Vietnam/JSN SRC program" from 2014 with Viet Duc Hospital in Hanoi as emerging center.
In last year, we did renal pathology course and general checkup with urinalysis for general population "Ken-Nyou project" in Hanoi.
In this year, we had short training course for young Vietnam doctors, nurse, dialysis technician and pathology technician in Japan.
We plan second pathology course and Ken-Nyou project in autumn of this year.